At 19 years of age, William Cowell is one of the youngest of the 25 parishioners killed in the war. His military service lasted for little more than 8 months and like many young men, he was killed in his first encounter with the enemy on the Western Front battlefields.
William Cowell, born on 8th April 1897 was the youngest of 5 sons born to Thomas William and Rose Cowell. On 25th April he was baptised at St James the Less Church and although no home address was noted in the baptismal register on that day, 3 years later the census of 1901 shows the family living in Whitehead Street, Rawtenstall.
William went to the church school and, by the time of the 1911 census, a fifth son had been born and the family had moved to Green Street. William, at 14 years and having left school, was working as a grocer's assistant. He later worked at the Mitchell Brothers' mill in Whitewell Bottom.
William's father then became the licensee of the Boars Head Inn, Newchurch, so the family moved to live there and became associated with St Peter's church which, at that time, was a mission attached to St Joseph's, Stacksteads. The Boar's Head was to be William's last home.
In May 1916, a month after his nineteenth birthday, William enlisted with the East Lancashire Regiment and after training he returned home for a short period of leave in September. His Battalion was then deployed to the Somme battlefield in France and, just 10 days before the battle was declared over, William was killed in action in the trenches.
William's parents received news of their son's death from one of his friends and comrades who wrote home before the official military notification reached them. A tribute to William was placed in the Rossendale Free Press newspaper on 18th November 1916.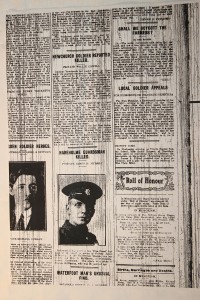 William's body was never recovered from the battlefield and, along with over 72,000 missing soldiers, his name is commemorated on the Thiepval Memorial, on the Somme.