Work
Many of the men and women who remained behind supported the war effort in lots of ways. Because many men were away on the front line women stepped into their roles, some of which had never been opened up to women before. Many of these jobs were in industries and on the farms, essential to keep the country producing goods and materials and to keep the people fed.
The General Post Office needed to collect and deliver the huge volume of letters – 12 million a week – to and from men serving on the front line. Before the war, only men could deliver post but because many postmen went off to war, women were put into their role. The first women police officers were also introduced in some parts of the country.
In fact it can be said that the war changed the role of women in the workplace permanently and when the war ended, the law was changed to allow women to vote in elections, something which the suffragette movement had been striving to achieve before the war.
Medical care
The volume of casualties from the battlefields overwhelmed the established medical facilities both at home and in the field hospitals built in France, Flanders and elsewhere. Many buildings were therefore turned over to the military to use as hospitals.
Rossendale had two such hospitals, New Hall Hey and Pike Law. The New Hall Hey Auxiliary Hospital buildings are long gone but were situated approximately where the Fire Station roundabout is in Rawtenstall centre.  The hospital was funded in great part by private donations and subscriptions and staffed by many volunteers working alongside paid employees.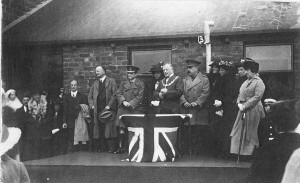 A member of the community prominent in establishing and running the New Hall Hey hospital was Dr Edmund Compston, a resident of Springhill House, Higher Cloughfold and son of Samuel Compston who is commemorated by Compston's Cross, high on the moors above Clowbridge. More information about Edmund and his role at New Hall Hey is available at www.springhillhistory.org.uk and www.providencechapel.info/new-hall-hey-military-hospital/