Joseph Edward Ashworth was born in Rawtenstall on 18th March 1895, the second child of Edward and Susannah Ashworth. It seems that Susannah died at, or shortly after, Joseph's birth and some two years later Edward re-married, to Mary, an Irish catholic from County Mayo, whose influence may have led to both Joseph and his elder sister Florence, being baptised at St James the Less church on 31st December 1897.
Joseph subsequently went to the church school and in 1911 the family were shown in the census to be living at Prospect Hill, Rawtenstall. By then there was an adopted daughter in the family, 6yr old Maggie and Joseph was working as a labourer at the Calico Print Works, Loveclough. The Calico Printers would subsequently revolutionise the textile industry but not before this particular mill lost a significant number of men to the approaching war.
On 24th November 1915, Joseph, at that time single and living at Glen Top, Waterfoot, enlisted in the East Lancashire Regiment and after training, transferred to the Machine Gun Corps, in March 1916. A month later, he was in France and fought on the Western Front for the next 2 years, injured and in hospital on at least one occasion before being promoted to the rank of Lance Corporal.
On 21st March 1918, Joseph was amongst those defending the front line village of Bullecourt, when it was attacked and taken by German forces. In the battle Joseph was severely wounded and reported as being killed in action, with his family subsequently being informed of this.
However, in July 1918 it was discovered that although Joseph had been severely wounded, he had been captured and taken to the Niederzwehren Prisoner of War Camp in Germany, where he had later died in the camp hospital, on 4th April, and had been buried in the camp cemetery.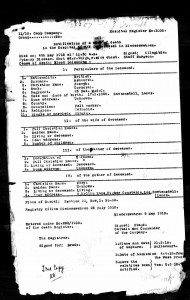 His family were informed and on separate occasions in 1919 and 1922 his sister Florence, by then having taken the name Chesworth through marriage and living at
Holmefield near to St James the Less church, received his war medals and gratuity payment.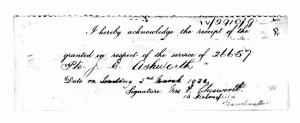 Throughout the war almost 3,000 soldiers and civilians of different nationalities were buried in the Neiderzwehren camp cemetery. Over a four year period after the war, a plot was established for 1,800 Commonwealth soldiers, including Joseph, who is now commemorated there with them, by way of an individual cross.