John James Ashworth, the oldest child of St James the Less parishioners John Ormerod and Mary Ashworth, was born at the family home in Double Street, Rawtenstall on 29th July 1891. John Ormerod was a Rawtenstall man, born and bred, but Mary, like many parishioners at that time, had settled in the area from County Mayo Ireland, after the famine there.
John James was the first born of six children and, in accordance with custom at that time and also, no doubt, the grim reality of child mortality (two siblings would die in the coming years) he was baptised into the church soon after his birth, on 16th August.
John went to the church school and after leaving, like the vast majority of the working population at the time, found work in a local mill, as a 'spinner'. Also like many families, the Ashworths moved around the town; in 1901 they were at Prospect Hill and by 1911, with John James still at home, they had moved to no 1, Elm Street, Rawtenstall, directly opposite the church and school, just off Burnley Road.
Following the outbreak of war in 1914, both John James and his father – then at the age of 43yrs – volunteered for the army. John enlisted at Rawtenstall, into the East Lancashire Regiment, with his father enlisting in first the Army Service Corps and later the Kings Own Royal Lancaster Regiment.
John James, after training and as Private 19689 of the 6th Battalion, East Lancashire Regiment was deployed to what was classed as the 'Balkans Theatre of War', on 23rd September 1915. The battalion landed at Dardenelles, Turkey, but due to heavy casualties, sustained over 3 months of fighting, had to be evacuated in December.
The battalion was moved to Egypt, before being deployed to Mesopotamia (modern day Iraq), in early 1916.
John James never returned home from there. Like many others, he was killed in action far away from Rawtenstall, in his case, on 5th April 1916 on the first day of the battle trying to relieve troops in Kut which was under siege by Turkish forces. The attempt resulted in abject failure with many casualties.
John James' body was never recovered from the battlefield and he is commemorated by name, along with the thousands of his fellow soldiers and friends, at the Basra War Memorial in Iraq.
Almost two months later, in early June 1916, John James' mother, Mary, was informed of his death. At St James the Less church, special prayers were offered and music played for him at the Sunday Mass and his photograph, along with a tribute, was published in the Rossendale Free Press on 1th June.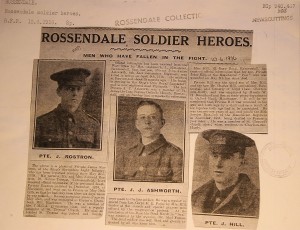 On 16th November 1916, John James' only remaining effects, cash totalling £3.2s.4d, was returned to the family with a war gratuity of £3.10s.0d being later paid on 18th September 1919.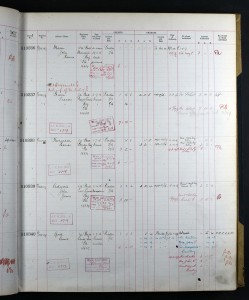 John James' father, John Ormerod, survived the war.